June 7, 2022
The Evolution of Apartment Gyms & Why You Want One In Your Building
The Era of Apartment Gyms
Yep, moving into your first apartment may work up just as much sweat as a workout. But if you're planning to hit specific fitness goals, you've got to put in the work! You have to sign up to a fitness centre, use up your precious time travelling AND spend loads on membership fees. So – why not choose apartment buildings that have their own gym??
Apartments are really upping their game with lifestyle amenities, with cinemas, communal rooftops and gardens that bring residents together. But in fact, an apartment gym is one of the most IMPORTANT amenities in the eyes of first-home buyers and investors.
Let's take a look at why an apartment gym is a must on your checklist for your next home.
Where it all began
Apartment gyms have come a long way. You're probably picturing a small room, with a handful of weights, and perhaps a stationary bike and treadmill. If you're lucky, the apartment building may even have a pool to cool off in after a long day at work.
But since then, those tiny gyms have levelled up. They are bigger, better-equipped fitness centres, with heaps of new gym equipment and more space to exercise. Some even have a hotel standard pool, spa or other sweet amenities that amp up the entire apartment building. So there's no excuse to skip cardio!
There's no doubt that Australians, especially millennials, are passionate about exercise, health and wellbeing. Property managers and developers have definitely taken this into account, as with each new high-rise development, gyms are now often seen as the focal point of the building, even taking up penthouse rooftops for residents who love training outdoors.
According to Domain, most residential developments back in 2012 and 2013 typically didn't include any shared spaces.
"Today, we generally always include them" – Andrew Peters, Hallmarc Development Manager.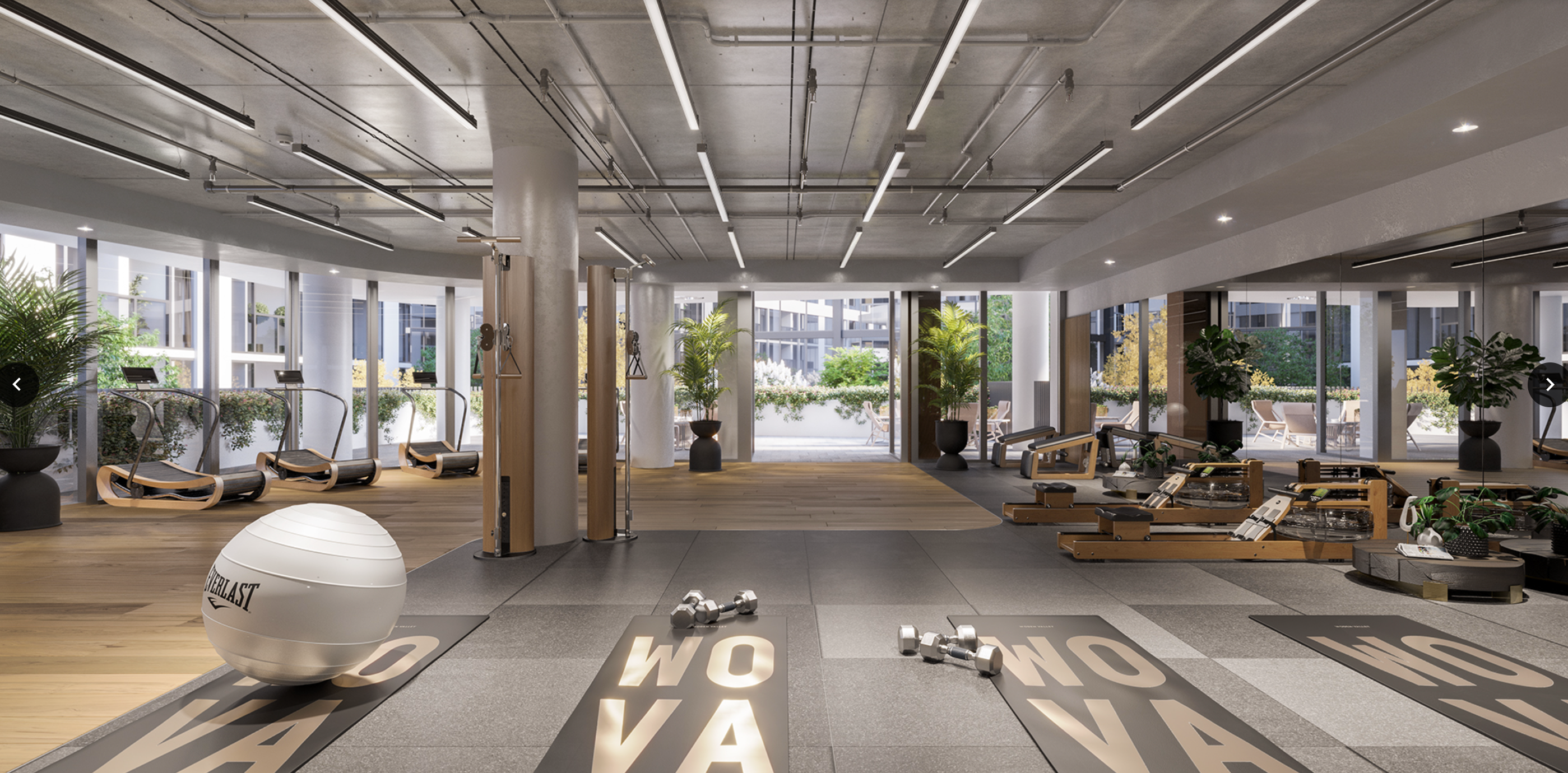 Liviti's Top Apartment Gym Features
Rooftop

An apartment gym perfectly positioned high up on the rooftop, rather than a basement, is a perfect way to allow residents to enjoy natural light and good sunset views. If your apartment is in a nice location, you'll be able to soak in the sweeping city or water views whilst getting your exercise in.

For investors, it's also good to note that for most apartment buildings, a luxury rooftop gym can influence apartment rental prices significantly. A ground floor workout room doesn't have as much of an impact.

Good range of equipment

A simple element, but super essential! The most important part of a gym is the equipment it has!

An apartment gym with a cable machine, treadmill, stationary bike, a few benches and free weights ticks all the boxes. So if you're a runner, lifter, or somewhere in-between, you've got all that you need.
Other cool amenities
An apartment gym complemented by other amenities such as spas, saunas or pools definitely turns heads. Some spaces even have wellness features, such as indoor gardens or yoga spaces for those who want to just chill out at the end of a long week. What a dream!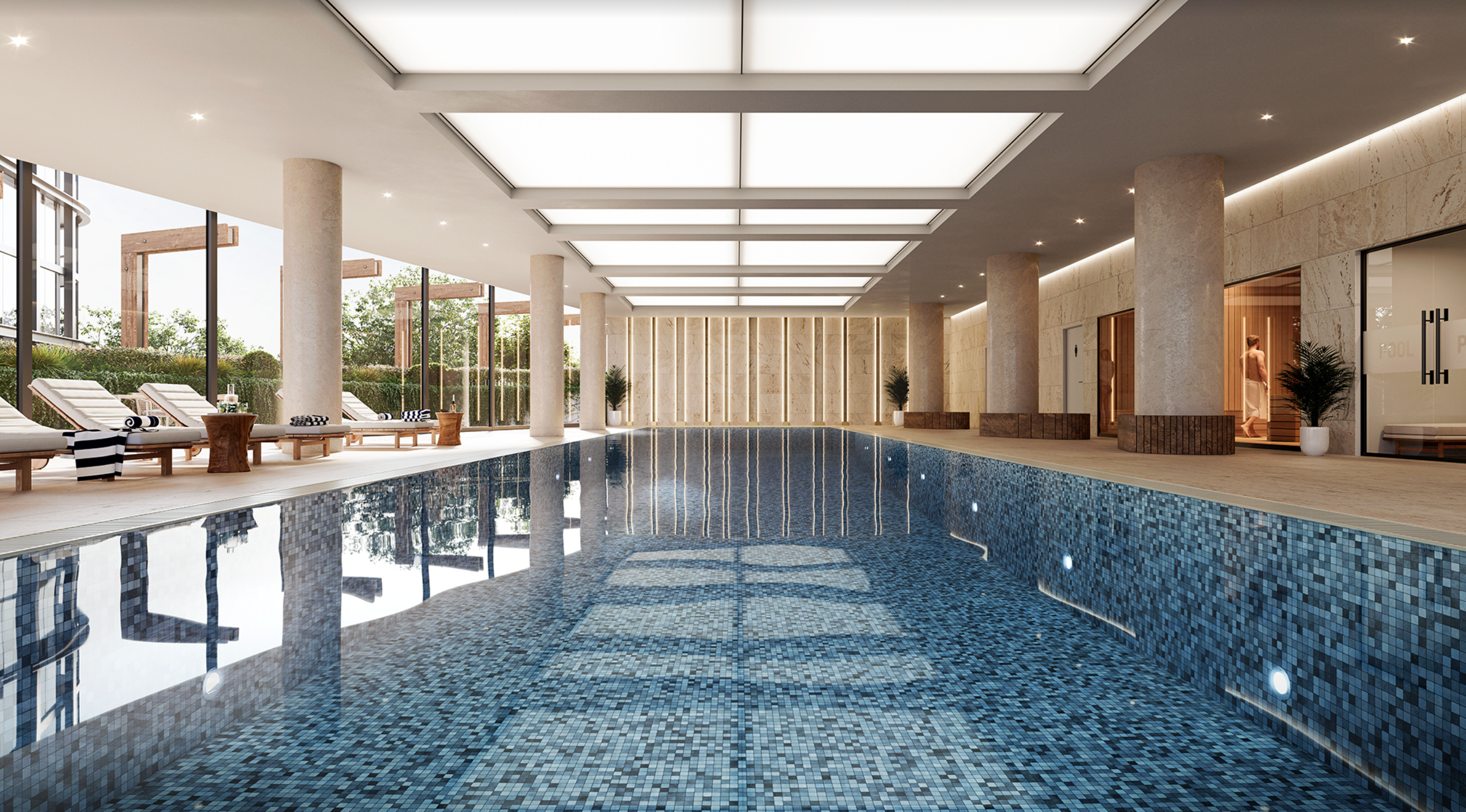 Benefits of a gym in your apartment building
No monthly membership fee
Yep, you don't need to pay your standard gym monthly membership fee if your building has a gym. This is a great benefit if you're buying your first apartment since you'll probably have heaps of costs to cover and need to save up.
At a standard gym, once you sign up, you might be locked into a contract, meaning that it can be pretty difficult to cancel. But in an apartment, there's no contract, and your gym costs are included in the fees you pay for access to other services in the apartment building. Sweet – you're basically lifting for free!
Convenience
Having an apartment gym in the same building = convenience! No need to search for a gym or travel far lengths to get there, because you're in the prime location – just minutes from your doorstep!
You don't have to worry about ease of access, time management with your schedule or transportation costs. If you lack the motivation to work out – this extra convenience is a win!
Less people
Say goodbye to 'bro hour' – the notorious term for that peak time in the gym (mostly dominated by men), where all of the equipment disappears and you probably have to just use your own body weight. So if you can't stand crowded spaces, or feel easily overwhelmed or claustrophobic, you might want to stay in your apartment building. In an apartment gym, you can enjoy a space with fewer people, so there'll be more equipment to enjoy and no need to ask the guy next to you how many sets he has left.
Social Opportunity
Who doesn't like making new friends? In a standard gym, you're surrounded by people that you don't know. But in an apartment gym, you're sweating alongside people that live in the same building as you. This creates a perfect opportunity to strike up some friendships, or even find a partner to work out with you and boost the motivational energy!
Possible Increased Rental Return (For Investors)
Since they can use their apartment gym, tenants may cancel any existing gym membership. So investors can consider requesting a higher rent, compared to buildings without an on-site gym. This means that you can possibly get an increased rental return! If you like the sound of that, invest in an apartment with an on-site gym and you're in business!
Gyms are the way to go
Whether you're a fitness guru looking for your first apartment, or an investor searching for the best building perks, make sure it has a gym or fitness centre for all your lifestyle needs!
Contact Liviti at 9056 4311 or get in touch here if you need professional guidance on your property journey, or even just to get your foot through the door!