March 16, 2022
Old vs New Apartments: The Pros and Cons
When it comes to buying a home, whether it be an apartment as an investment property, a dream home to live in or something completely different, the age-old question is always asked – is it better to buy an old or new property? It's an important question to ask but there really isn't a simple, black and white answer.
To make things a little clearer, today we're laying out the different pros and cons of old and new apartments so prospective buyers like you can make the right decision according to specific values, needs and circumstances.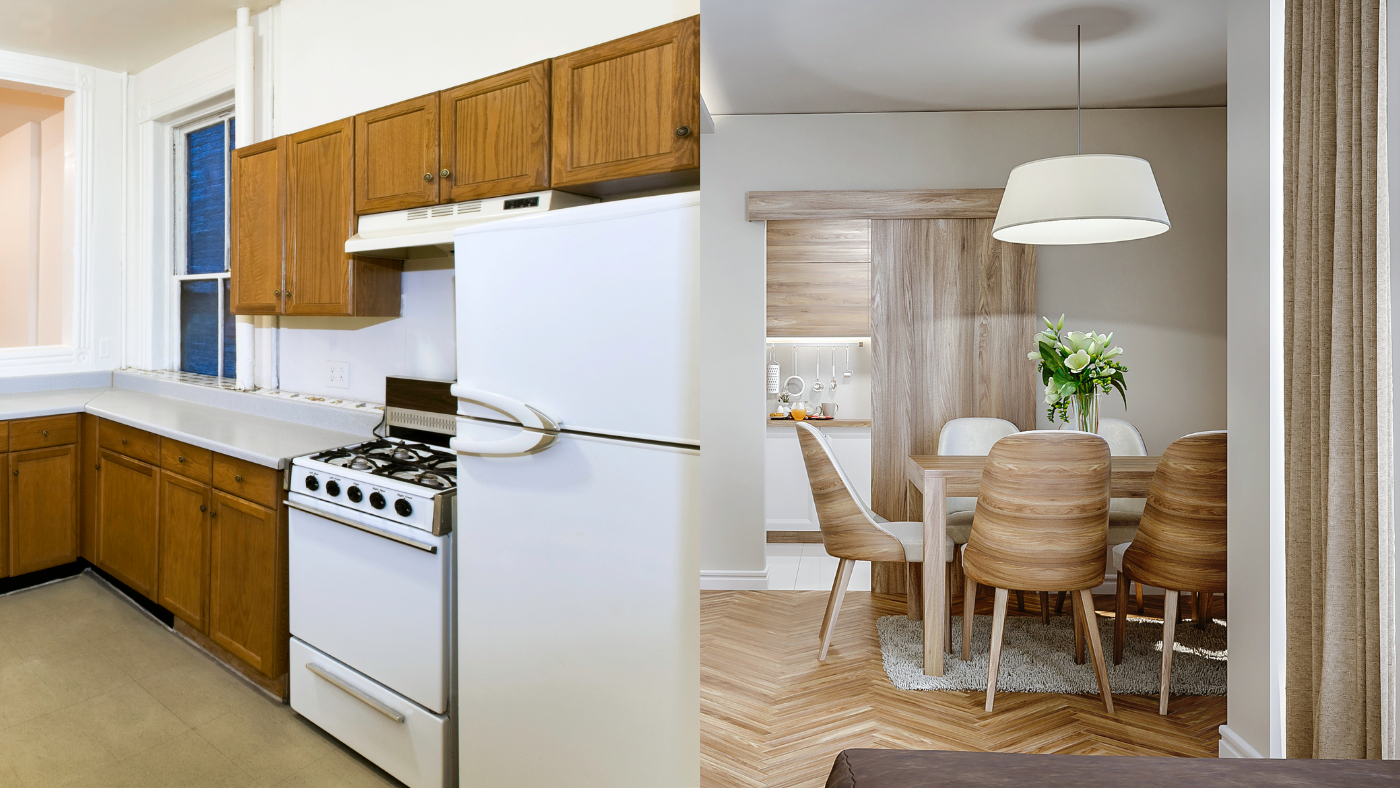 What Are the Pros of Buying a NEW Apartment?
Buying new properties like off-the-plan apartments definitely comes with a whole range of benefits including the ones listed below.
#1 Helpful Tax Write-Offs
New properties come with a very helpful incentive, which is the fact that they are great for claiming additional expenses against your tax. There are also higher depreciation benefits, especially when looking at the first five years after the home is built, purchased and tenanted.
Over five to ten years, investors can claim furnishings as a tax deduction in newly built properties, while depreciation can provide tax benefits for up to 40 years as that's the official length of time the ATO has attached to a building's life span.
#2 Likely To Attract Tenants
While there definitely are renters who love a good retro-style home, the majority of modern tenants enjoy the convenience and luxury of a brand new unit. Nowadays, apartments provide more value to contemporary tenants by offering elements like smart appliances, electronic security systems and other modern features & amenities that older apartments simply can't offer.
It's much easier to find tenants who are willing to pay a higher rental fee for a newer apartment, especially if there are amenities on site as an added bonus.
#3 Homeowner Security and Protection
For new buildings including off the plan apartments in all states except Tasmania, Home Building Compensation (HBC) is a legal requirement that provides protection against certain structural/major defects that may occur in instances where solid construction is absent.
#4 Low Maintenance Overheads
Older properties tend to go hand in hand with higher maintenance requirements, whether it be a simple leaky tap, wear and tear or something more serious like foundational damage. The fact that brand new properties require less maintenance is a huge selling point, plus almost everything is under builder or appliance warranty anyway, so it's unlikely you'll be out of pocket if something does need to be repaired or replaced.
#5 Government Incentives
For owner occupiers buying their first new property, the First Home Owners Grant is a fantastic government incentive to take advantage of. It can certainly help make the process of buying a home or apartment for the first time stress-free in regards to finding the upfront funds needed.
#6 Better Facilities and Amenities
New developments are often planned with an exciting array of communal amenities. If the property type is an apartment or villa complex, you can usually look forward to a leafy outdoor space to enjoy, the potential of gym and pool facilities, pet-friendly design, assigned parking spots for tenants and visitor parking and sometimes even café, dining or retail opportunities.
An older property is unlikely to host these kinds of valuable communal facilities.
What Are the Cons of Buying a NEW Apartment?
Though there are many reasons investors choose to buy a contemporary property, it does pay to look into the negative aspects that may come with new houses and apartments.
#1 Can Be Less Affordable Than Established Properties
While newer properties may cost a little more than older ones overall, the higher price is usually due to new apartments boasting extensive contemporary features and amenities like a pools, gyms, elevators, better parking facilities and garages and more.
The higher price point of new apartments is well worth it to take advantage of the impressive inclusions that older properties just can't offer.
#2 Less Opportunity to Add Value
Most new apartments are constructed with modern buyers in mind, so they generally come with all the bells and whistles. This means owners have less reason and less opportunity to achieve capital growth through renovations or improvements.
What Are the Pros of Buying an OLD Apartment?
Purchasing an established property can be the perfect option for a willing buyer for many reasons. Here are just a few of them…
#1 Ideal For Adding Value
Aside from the quirky and homely character apartments built in older eras generally exude, an older style unit offers one advantage that simply can't be matched by off-the-plan properties – the opportunity for adding value through renovations and improvements.
Even the simplest of makeovers can help improve tax depreciation benefits, resale potential, rentability and more.
#2 Older Apartments Can be Larger and More Affordable
Many investors will choose to buy an older apartment because they often tend to be larger and more affordable than their newer counterparts. While a new unit may offer slightly more modern lifestyle features and facilities, older properties will often have more spacious living areas without sitting at the same price point.
#3 Capital Growth and Proven Resale Value in the Property Market
When it comes to capital growth, older apartments will generally have established themselves in the market and will have a history including previous sale prices that you'll be able to access, as will future potential buyers.
It is important to note though, new properties may not have the history, but a lot of research goes into making sure apartment developments will perform well in the market. Ask your property consultant for previous sale prices of apartments in the same building or other off the plan apartment sales in the previous five years within the area.
While it is nice to have a proven resale value history, it's also good to look at the big picture and take on board credible research.
#4 Close to Established Infrastructure
Transportation, quality schools, medical facilities, retail and hospitality venues and many other property value boosting amenities are generally found within easy reach of older apartments, simply because the property would have been planned with the locations of existing and future infrastructure in mind, as areas were being initially built up.
What Are the Cons of Buying an OLD Apartment?
Making an investment in an older property comes with a range of benefits, but it also has its risks that sometimes veer buyers further towards buying new apartments instead.
#1 High Maintenance Investment Property
Whenever you buy property, there is going to be unexpected maintenance and repairs involved, more so with older apartments. As some investors choose to buy a property regardless of negative gearing, the initial investment can often put stress on cash flow, so it's important to have existing funds to draw upon. We do see a shrinking percentage of buyers choosing to invest in old properties for this very reason.
#2 Lower Rental Return
An older apartment isn't going to give you the same rental return value as a newer property. Old, unrenovated apartments are likely to come with outdated fittings and fixtures that don't offer the same kind of appeal or functionality compared to new apartments.
#3 Less Tenant Appeal
Finding quality tenants is such an important part of property investment. A nicer and/or newer home will likely attract the kind of high-quality tenants a landlord hopes to welcome into their property, due to hosting contemporary features, amenities and design. An older, less modern apartment may not attract the same kind of tenants and could potentially lead to your apartment deteriorating quicker through damage from less desirable tenants.
#4 Lower Depreciation Write-Offs
While owners of both new and old apartments can claim depreciation write-offs via tax, new apartment owners generally enjoy higher rates as the property and everything in it is new and valued at a higher amount than an apartment that has seen wear and tear over the years.
Different depreciation write-off rules exist for the property itself and the items inside it depending on its age and whether ownership has changed hands. Any property constructed after the 15th of September 1987 attracts capital works deductions for up to 40 years after construction and owners of new properties can claim depreciation on existing assets described as plant or equipment (air conditioning units, carpet, etc.). However, owners of second-hand residential properties cannot claim depreciation on existing plant or equipment assets unless they were the ones to purchase them.
Should You Buy An Old or New Apartment?
The decision as to whether to invest in old properties, new properties or a mix of both sits entirely with the buyer. While we love to help by offering knowledgeable advice and guidance, each situation and circumstance must be approached individually.
If you'd like to chat with a qualified property consultant about your options when it comes to purchasing a property as an investor or owner occupier, give us a call on (02) 9056 4311 today!
We have a huge range of modern apartments available for you to take a look!