May 31, 2022
The Ultimate Apartment Interior Design Guide for 2022
So, you've just moved into a new apartment. Amazing! One problem. You're ready to get the place looking lit but there are waaaaay too many interior design styles to choose from. What is the best way to turn your small apartment into a magazine-worthy abode or spice up your living room to really show off its quirky personality?
In this guide, we'll share a few of our favourite design styles to give you decorating ideas and to inspire thoughts on how you can make your apartment look picture perfect with the right décor.
Whether you need general style ideas for your new apartment, are trying to create a focal point in a living space or want to find a unique statement piece to match your existing style, read on and answers ye shall receive!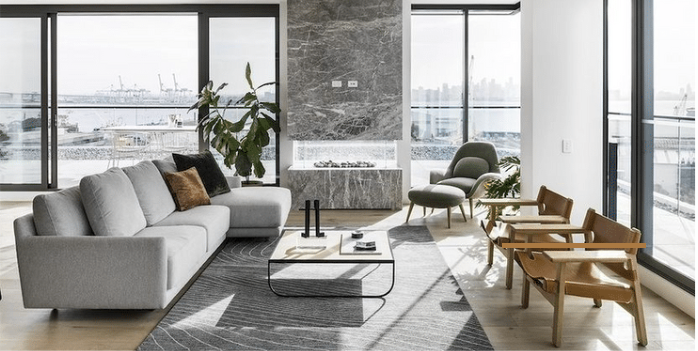 What Common Interior Design Problems Do Apartment Dwellers Face?
Small Spaces
With the small square footage that some apartments have, it can be especially difficult to design the interior just how you'd like it. The good news is that there are PLENTY of ways around what seems to be a small space.
Not A Homely feel
Another hurdle that many apartment dwellers face is that the apartment tends to retain that sterile 'rental feel' after moving in and they're just not sure how to style it into a home.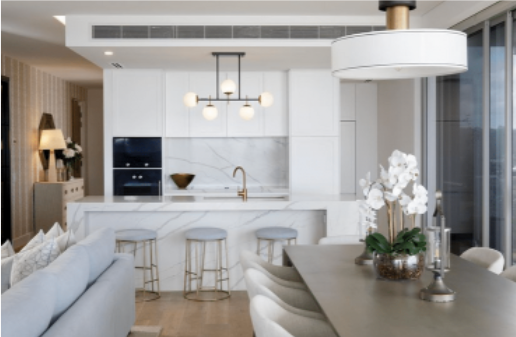 Weird Angles
A small space, like in studio apartments, can be challenging to work with when it comes time to make your abode feel like a home. The apartment may have lots of weird angles and strange nooks and crannies, especially if it's older.
Lack of Natural Light
Most modern apartments will take this into account by increasing the size of windows and facing the apartments in the most favourable direction to gain maximum sunlight throughout the day. Some older apartments, and even modern apartments positioned on shady sides of the building, don't have that luxury.
Have hope though, there are ways around the problems listed above.
Our Top Interior Styles For Apartments With Limited Floor Space
Our number one tip for styling your apartment in 2022 is to choose colour wisely. It can be an incredibly useful tool and can bring life into a dull space.
For most of the following styles, white features heavily, especially white walls. This is because white can help brighten a room, not to mention it is a great base to amplify any style and colour choices you wish to incorporate into your home.
Whether you need to decorate your living rooms, the dining area, or are simply unsure what colour wall will suit a room best, keep reading for some solid advice from our design experts.
Contemporary Apartment Decorating Ideas
Let's kick things off with contemporary design. Not to be confused with the modern design style, contemporary design consists of splashes of colour and different textures, as well as abstract décor and artworks, and feature walls. The main tones are often muted (whites, greys, and blacks), enhancing the different colours you may want to present in your home.
One current trend that's circulating within the contemporary design style is ceramics and vases of all different shapes, such as arched or curved.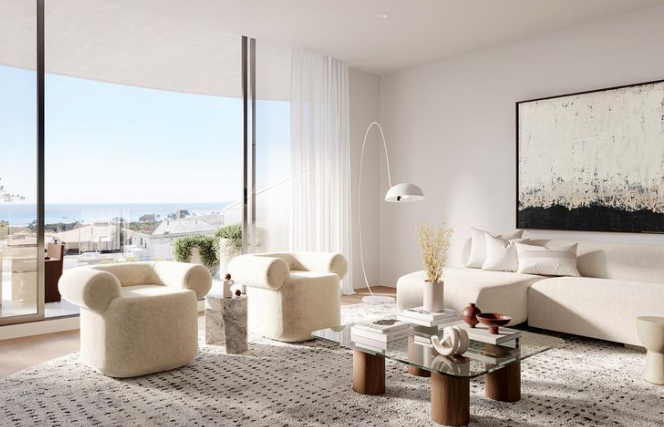 Minimalist (A Small Coffee Table Can Be a Massive Feature)
Similar to contemporary, in this style we see lots of grey, white, and black, with often only a very small splash of colour used as an accent.
In the 'less is more' fashion of minimalist style, there is a focus on more space by removing clutter and keeping the home tidy.
A classic minimalist designer trick used in areas of low natural lighting is installing slim floor lamps to create a natural light-style ambiance.
When looking to implement a minimalist style, functionality is key. Ensuring furniture is both practical and stylish is key, such as incorporating storage space for a few books and remotes in a quaint coffee table.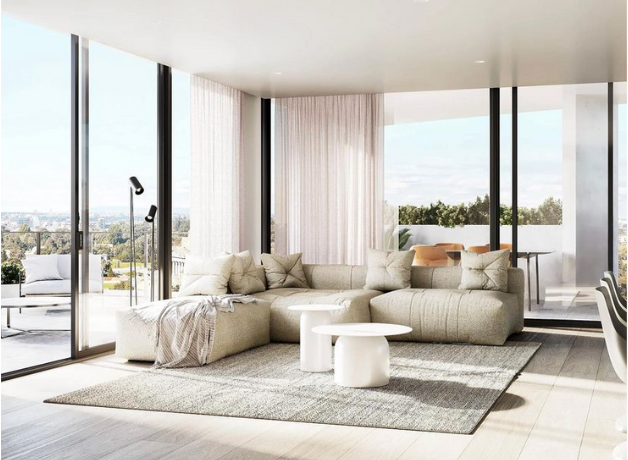 Boho Vibes
Unlike contemporary and minimalist styles, the boho style consists of more natural and neutral base colours like browns.
Woods, rattan, cane, ceramics, and knotted wool are all coveted furniture pieces, shying away from the more 'hippie' theme with the addition of luxury-style furniture and décor.
Try styling your living space with a natural wooden coffee table, a beautiful ceramic vase, woven shades over pendant lights or decorative objects like vases or sculptures to make the space feel loved.
For homes that need a little extra 'oomph' in the style department, a 'hybrid' boho-coastal theme could be the perfect solution.
Coastal Themes To Cancel Out A Small Living Room Feel
The coastal style, in today's day and age, isn't necessarily 'beachy'. It is breezy and bright; with ocean and sky influences, but not overly so. This style takes inspiration from more natural materials, such as wood, and features beautiful green and blue tones. Window treatments are often soft, flowing curtains so as to not obstruct breezes and natural light.
Relaxation, comfort and holidaying at home are what this style is all about. Woven rugs and pendant light shades, different tones of blue-greens, and timber furniture all pieced together create a warm, seaside vibe.
Popular decorating ideas for this style include large, shell-shaped bowls, woven trays and baskets, and photographic artwork.
Mid-Century Modern Interior Design Style
Mid-century modern style is a present-day take on, well, mid-century design.
This theme covers decor spanning from the mid-1940s to the 1970s. It incorporates clean, simple lines that are carried by fixed properties, such as wall panels and splashbacks, and heavily features the use of timber in both paneling and furniture.
Vintage furniture is often the centre point of the room, including items like those made by Hans Wegner.
A large, overhanging floor lamp, colours such as green or mustard yellow and abstract wall art create a certain 'wow' factor.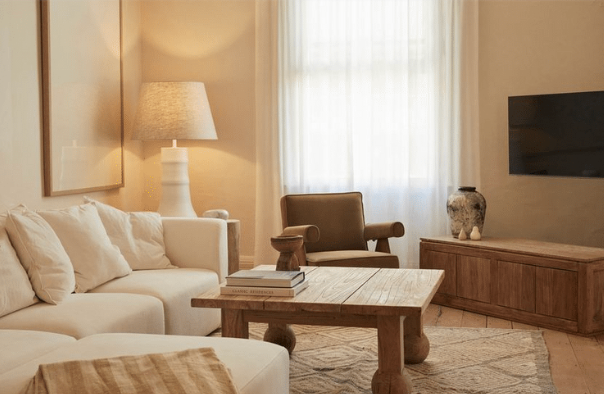 New Industrial Apartment Style Trends Have Hit Australian Homes
The industrial style, like minimalist design, is heavily stripped-back. It truly shows off the 'bare bones' of the home. This is achieved by highlighting exposed beams or ceilings, polished concrete floors, brick walls, and even exposed piping! These features can easily make the room feel larger than it is.
The industrial style involves a lot of metal and leather furniture. Metal fixtures, even a metal coffee table or leather couches encapsulate this style. A play on colour can help make the house or apartment feel less cold when using lots of metal and leather, so a splash of red or yellow can go a long way. In the living room, for example, wall sconces and lamps can accentuate industrial features and really make them pop.
A 'new wave' of industrial styling is also emerging. For Australians, this style hasn't been common due to the nature and build designs of our houses and apartments. A warmer type of industrial trend is beginning to grow – in some spaces, timber is also used but it is far more refined than that of other styles, plus indoor plants are making an appearance.
Scandinavian (For That Classic IKEA-Inspired Look)
Scandinavian style starts, first and foremost, with a white base and continues with splashes of black elements. Although the base colour scheme is monochromatic, a feeling of warmth can be obtained from décor choices.
Texture plays a large role in this style, so incorporating plants, fur, and wood to introduce a natural component is genius. Quite similar to the minimalist style, the focus is on clean spaces without clutter.
A gallery wall (lots of photos arranged together on a wall), marble décor, and a statement lighting piece on a high ceiling can bring a Scandinavian-style room to life.
Luxe Means Big, Bold and Glamourous
Splendour and elegance. Honey, if you ain't got it, don't try to pull off this style.
Colour is applied boldly and patterns feature prominently. Nothing but the best for this style with everything made of the highest quality and placed with precision.
Beautifully designed lighting and large mirrors add an element of grandeur. Furniture is often custom-made to fit the room perfectly, while carpets and joinery are eccentric and unique. Window treatments usually include plantation shutters and light, flowing curtains.
Furs, brass, and gold feature prominently to make rooms feel extra elegant and luxurious. Stone also features, especially unusual or rare pieces. The incorporation of a big dining table can make a luxe space feel even more extravagant.
Our Top 5 Interior Design Tips For Your Apartment
Now, we've spoken about different styles, but what are some easy apartment decorating ideas that you can do yourself that don't cost a fortune? Whether you want something to spice up the living room or dining room, or you have limited space, here are our best design tips.
1. Shelving
Installing open shelves and bookcases is an excellent way to save space and display your décor.
Floating shelves are really cool and creative instalments in rentals that make it feel more like your own home and free up valuable floor space. When installed in a small living room space on an empty wall, swapping couch side tables out and just running with some cleverly placed shelving is a nifty alternative.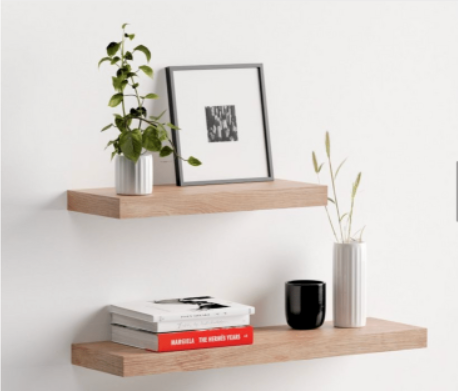 2. Mirrors
Mirrors reflect light around the room, creating more brightness in areas that don't get much natural light. By using large, tall mirrors against white walls, you can also add the illusion that the floor continues through the mirror, giving a larger apartment feel.
A large mirror paired with a white wall or a gallery wall featuring mirrors are both *chef's kiss* stunning uses of this overlooked decor option.
3. Multi-Use Areas
Repurposing an area for multiple uses can help save a lot of space. Transform your living room furniture to incorporate a desk, if you can't have a dedicated office, or add a dining table into the living area for a living/dining room feel. You can easily create different zones that share a purpose within a small apartment.
4. Low furniture
Installing furniture that appears low to the ground can have a super positive effect on your space. A low bed frame or couch can make it appear as if small spaces have tall ceilings. Coupling this with a hanging pendant light fixture will further accentuate the height of the ceiling and create an illusion of bigger space, especially in a small apartment.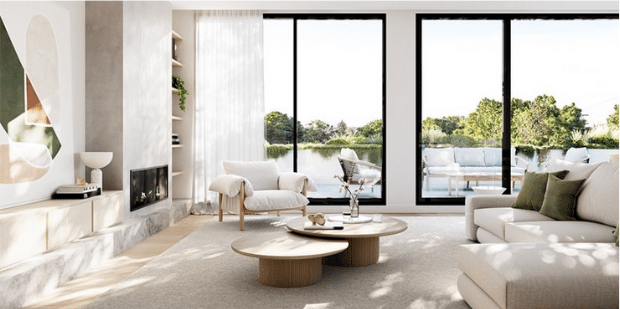 5. Storage
Built-ins (wardrobes) are a great way to maximise small space if you are able to add them to your home.
Building shelves into walls will help maximise storage and declutter an entire room. Hidden storage underneath beds or other furniture is also a genius way to open up the entire space of the room and keep clutter to a minimum.
Kitchen storage and organisation can give you some much-needed extra counter space, especially in a small apartment.
Our final tip is to try not to focus on too many rooms at once. Interior design can be overwhelming. Start with either the living room or kitchen and move on from there.
We hope this has been an interesting read for you, and even if you didn't find a style that tickles your fancy there will be something out there for you. You could even create your own style that's never been done before and make it a thing. Why not? You do you!
You may never find a perfect example for your room style, so just do your best, make the most of the space you have and use whatever apartment decorating style suits your vibe. As long as your space feels homely to you, you're on the right track.
If you're looking to buy a new apartment to fill with your favourite decor ideas, check out our available properties today!
Any questions or queries about who we are and what we do here at Liviti, feel free to get in touch.