March 16, 2022
What is a studio apartment?
If you're on the hunt for a new apartment, maybe even your first apartment, then you may have come across a studio apartment or two. Studio apartments and one-bedroom apartments are some of the most popular apartment options for their smaller, organised and functional space.
So say goodbye to difficult roommates! A one-room apartment is a perfect place for home buyers looking to live solo in a convenient and optimal space without breaking the bank.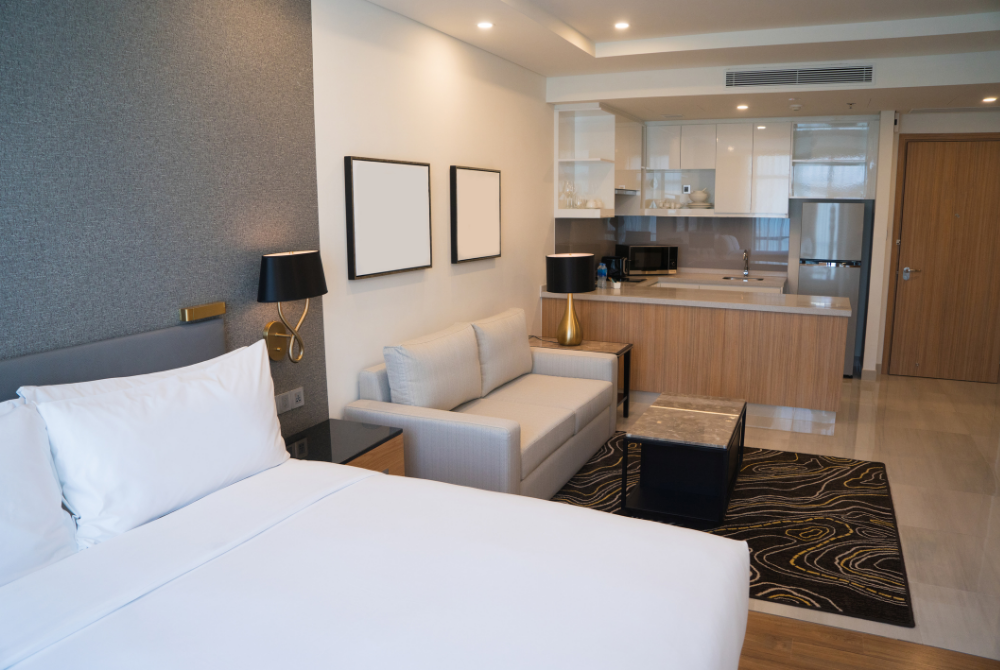 Studio Apartment Meaning
#1 Studio apartment meaning & configuration
Contrary to common assumptions, a studio apartment isn't determined by size. It is actually defined as a self-contained unit that has an open floor plan – meaning the bedroom, living room, and dining area are all in a single room space with no walls separating them.
Some floor plans of a studio apartment might have half walls or built-in bookcases to help divide the space. But don't worry, the bathroom is an exception and will be a completely separate room.
#2 Studio apartment size?
The average size of a studio apartment generally varies between about 30 – 60 square metres, some might still include a balcony. And, the open floor plan is built effectively to utilise every part of it.
In order to create the illusion of a large room, you might find that some have higher ceilings and more or taller windows that let in lots of natural light.
#3 Common Studio apartment floorplan
There are a variety of studio apartment floor plan styles but generally, it consists of open plan living where the kitchen, living and dining areas are situated in one room. The bedroom is usually combined into the main living area with or without a partition to create privacy with the bathroom and laundry usually situated in a small enclosed space nearby.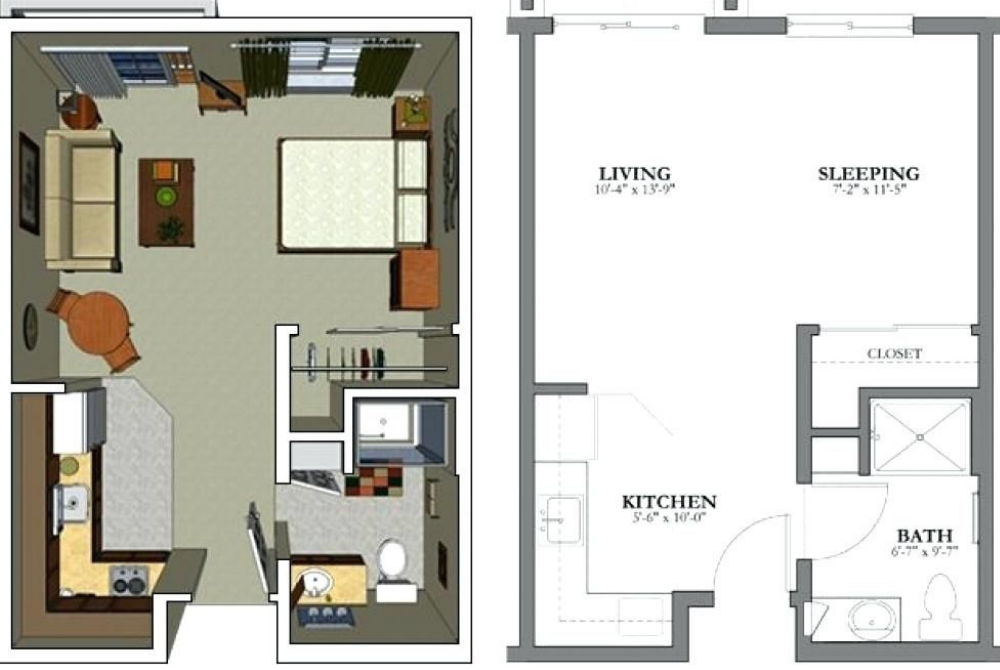 Source: apartmenttherapy.com
#4 Studio apartment Price
The price ranges of studio apartments can vary depending on their location but regardless, they are the popular choice because of their affordability. Studios are generally less expensive than a 1 bedroom apartment although the rental income between the two property types can be quite similar.
Studio prices can start from as low as $395,000 so they offer an affordable entry point to home seekers.
Studio Apartments Vs. One-Bedroom Apartments
Often, on their apartment search, buyers get confused between a studio apartment and a 1 bedroom apartment.
You'll likely need to pay a higher purchase or rent prices for a one-bedroom than you would for a studio. But the main difference between the two is that, unlike a studio apartment, a one-bedroom apartment will have a separate bedroom with a door and most likely more space for storage. Some one-bedroom apartments have a bathroom connected to the bedroom, which provides more privacy.
Other differences include:
Sizing – one-bedroom apartments tend to be slightly larger than studio apartments.
Extra space – the separate rooms in a one-bedroom apartment will likely allow for the opportunity to have more furniture since you'll have more space to fill.
More privacy – rather than having everything in an open and common space like a studio apartment, each room in a one-bedroom apartment will be separate, including the kitchen.
For those who like to entertain – with the extra space and privacy, a one-bedroom apartment is the better option for those who like to host gatherings at their place.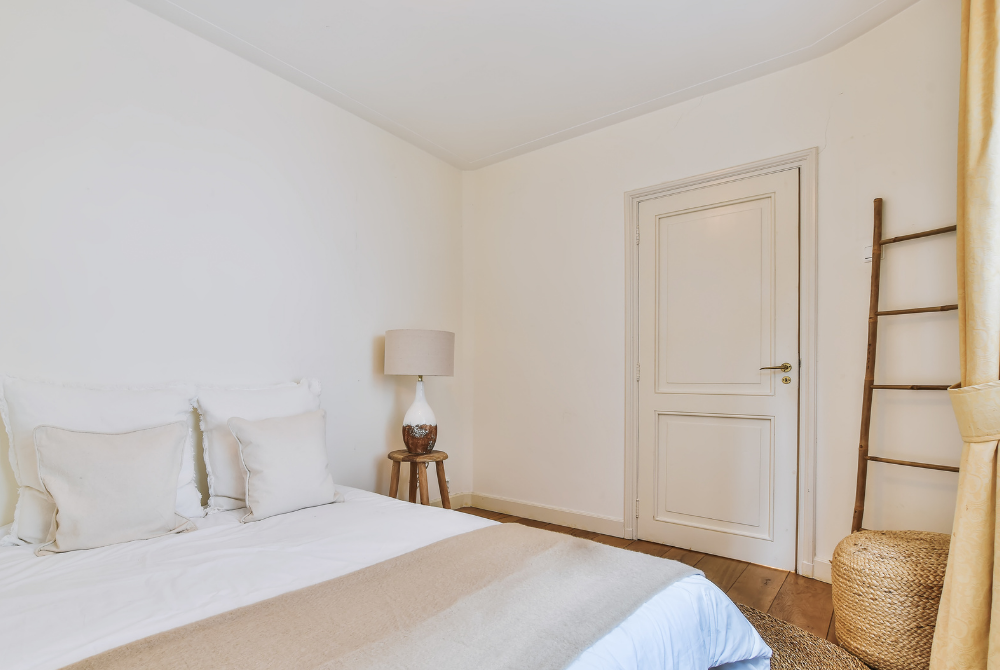 Pros and Cons of buying a Studio apartment
Studio apartments may not be for everyone, but there are definitely several advantages to purchasing one.
We've compiled a list of pros and cons for you to take into consideration when looking to purchase a studio apartment.
Pros
Some of the advantages to buying a studio apartment include:
Living a minimal lifestyle free of clutter
Less property maintenance and cleaning than one bedroom apartments
Lower price point than a regular 1 bedroom apartment
Saving money on electricity bills
Central location at a lower price
Generally close to public transport
Good rental return potential
Cons
Some of the disadvantages to buying a studio apartment include:
Minimal privacy as it is one open space
Limited space and storage – would be difficult if you like to frequently entertain
Only suitable for a sole home buyer
Could have difficulty getting a home loan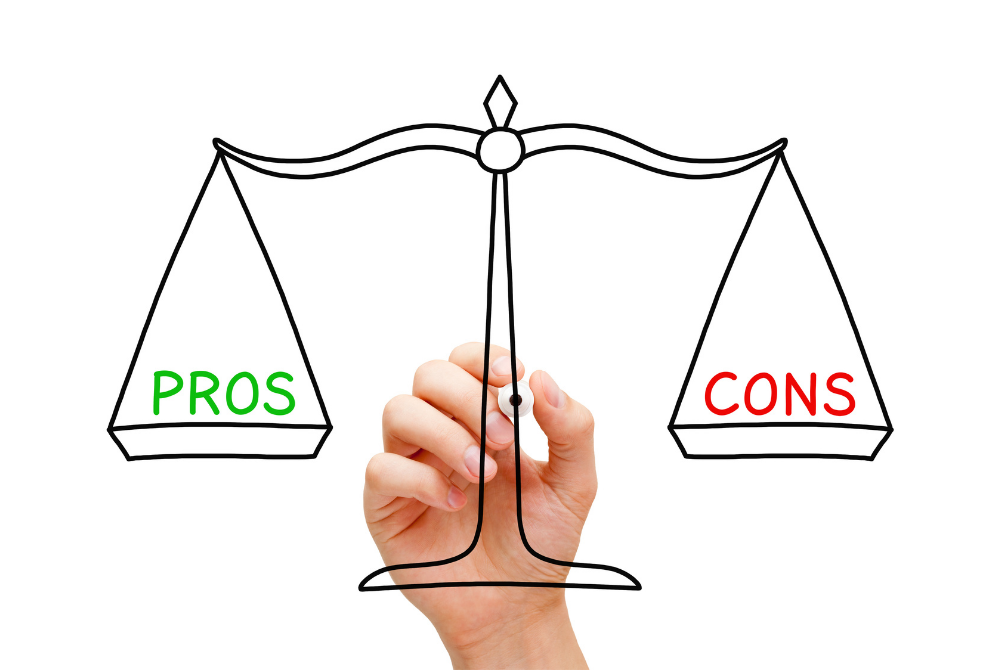 Things to consider when choosing a Studio apartment
What type of home loan?
The affordability of a studio apartment can come with stricter lending criteria. Since studios are typically smaller than a standard apartment, some lenders may not approve loans for properties under 40 square metres. However, depending on your budget and how much you plan on borrowing, some lenders can sway their guidelines for smaller properties.
What are the costs?
Studios are generally cheaper to buy and rent than a one-bedroom apartment. So if you're looking to save money through the purchase price, rental costs and strata fees, then a studio apartment just might be the alternative for you.
Where is it located?
Location is everything so it would be beneficial for you to consider studio apartments in a convenient location for you. They are most popular amongst university students and young professionals living on their own due to their close proximity to the places that they frequent such as:
Place of employment
Universities
Public transportation
Shops
Family
Hospitals
These amenities are generally the more desirable and therefore the primary reason for choosing a studio apartment in a location that contains them or is nearby.
What apartment features are available?
Studio apartments have the prime features of :
Open plan living – to optimise living space
Floor to ceiling windows – to let in lots of natural light
Cosy intimate space in a single with easy maintenance
Minimalist interior design to avoid the smaller space from looking too busy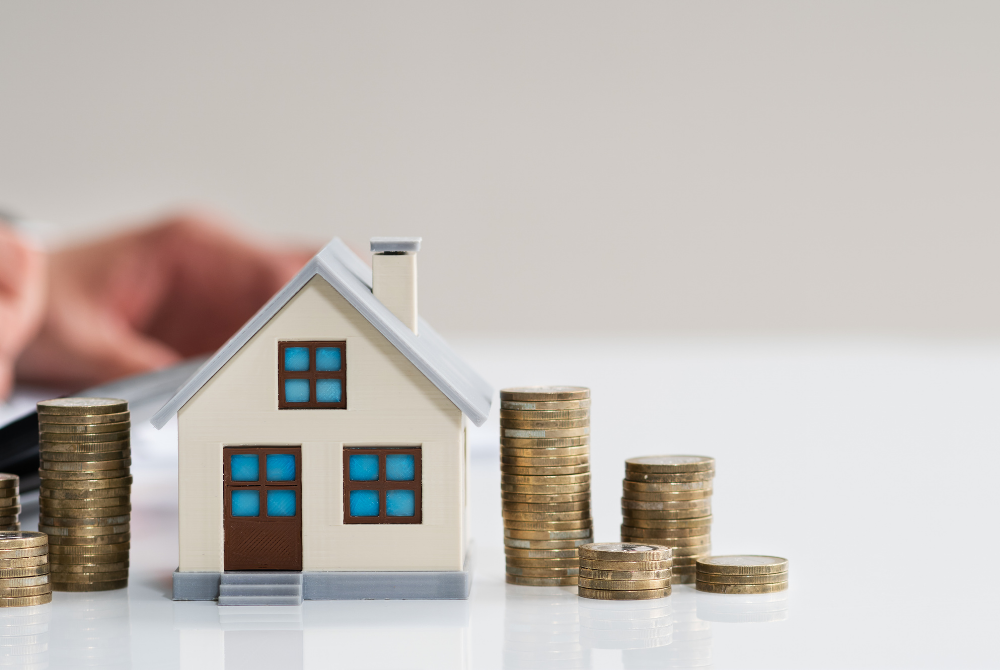 Making the Most of Your Space
How To Organize A Studio Apartment
A studio apartment is best suited to people who strive to live a minimal lifestyle. When organising your space you will want to declutter and make sure you aren't holding onto items that you don't need or that don't work with the size of your space.
Make trades and compromises. It would be a good idea to trade some of your full-sized furniture in for space-saving options that contain inbuilt storage.
For example, you could buy:
A bed that has drawers underneath it to maximise the storage space whilst maintaining a tidy appearance
Or a Murphy bed – you can store it away vertically against the wall when you're not using it to open up the main living space even more
A coffee table that has cupboards, drawers or even open space underneath it
Furniture items that can double as additional space for storage – a storage ottoman can also be used as a footrest or a place to set your drink.
Furniture, rugs and dividers or privacy screens are perfect opportunities to both personalise the single room and separate each of the living spaces from one another. These additional touches create distinct areas in the single room without closing up any of the space to help you make the most of your studio apartment.
It can be very easy for a studio apartment to look cluttered so, in order to keep it organised, it's most crucial to have a designated spot for each of your items.
Your Kitchen Area
The most common kitchen design in a studio apartment is where the cabinets and full-sized appliances are lined up along one wall. In larger studio apartments, you might also find an island or an 'L' shaped kitchen to maximise on both bench and storage space. But overall, these layouts are both functional and provide more open space to add to allude to a large room.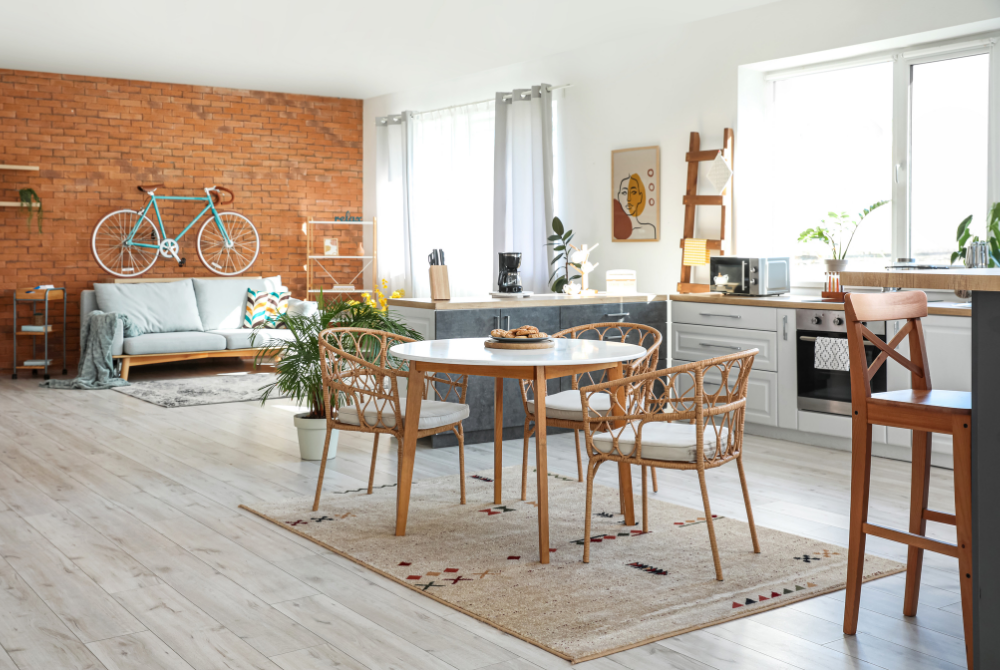 Dividing It Up
Sliding doors
Sliding doors create a distinct separation between rooms, ultimately creating privacy without impeding on space like a hinged door would. They also speed up heating and cooling by reducing the size of the room. Sliding door materials vary from glass to wood and metal so they can ultimately work with any style and space.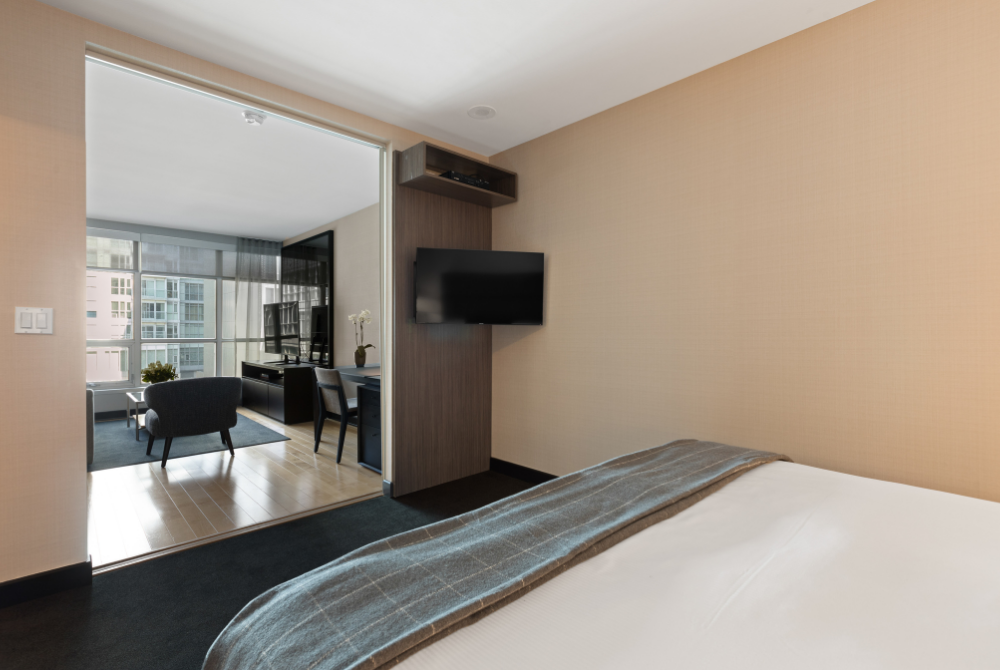 Room divider curtains
Room divider curtains are perfect for creating separate zones within any space. They are a functional and versatile alternative to sliding doors as they are quite simple to install and remove, perfect for home buyers/renters! They can also add a visual and design element to a space to enhance colour and texture throughout the apartment. Best of all, you can personalise them however you like to make your studio apartment feel more like home.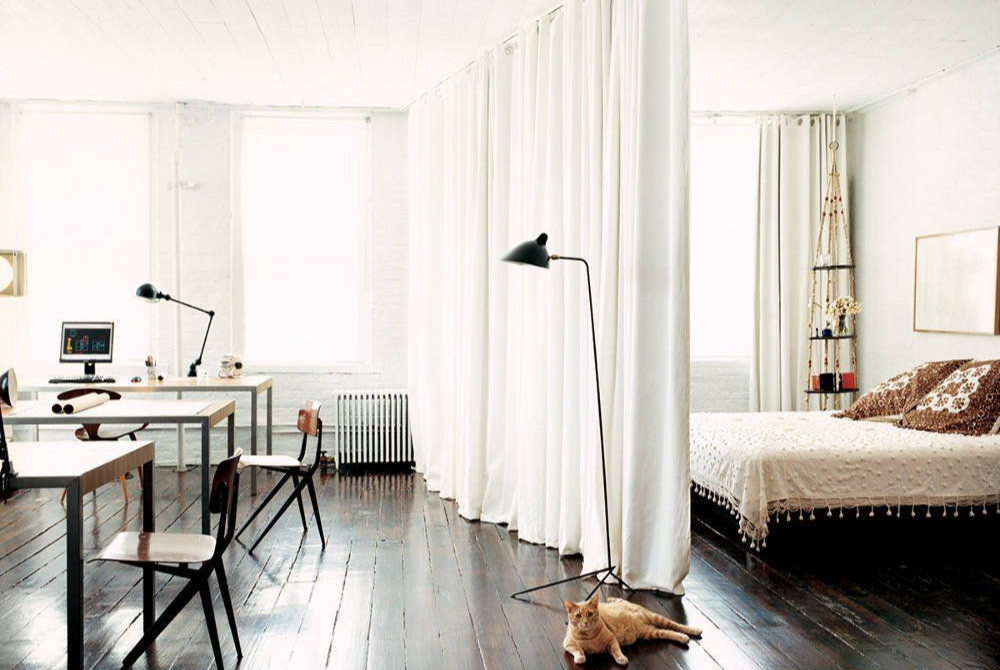 Source: curtain-tracks.com
Bookshelves
Bookshelves are another option to divide up the room as they can double as more storage space whilst also adding to the overall aesthetic of the apartment. Talk about a triple bonus! Whether you prefer a floor-to-ceiling bookshelf or a half of one to create partial walls, they are a great option to consider adding to your studio apartment.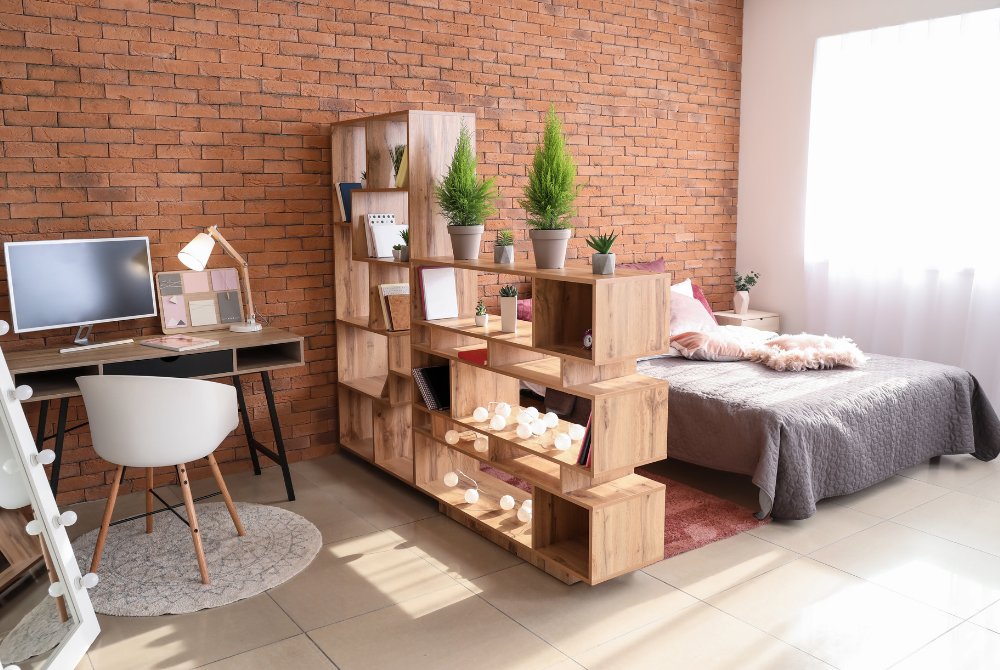 What do you think?
It's no secret studio apartments are gaining lots of attention and popularity, especially for sole home buyers or single renters. Their smaller open floor configuration makes the living space one of convenience and is also overall cheaper than its alternatives.
At Liviti, our property experts are dedicated to helping you find your dream property.
If you've decided a studio apartment is the one for you or you would like some more information, give us a call at (02) 9056 4311 or enquire here to book an appointment.